The best way to buy good quality Artificial Grass is to buy it directly from the manufacturer. This way, you will save thousands of dollars. The manufacturer will contact you and arrange delivery of the turf. You may have to help unload the turf if you aren't home when the delivery arrives. In order to ensure the safety of your property, make sure you are home when the delivery takes place. In some cases, a delivery company may require a signature upon delivery when you buy good quality Artificial Grass.
Antimicrobial backing
To prevent bacteria from growing in artificial grass, look for a product that has antimicrobial backing. The backing of the grass will contain silver ions, which have antibacterial properties. You can use a solution of one cup of bleach and one gallon of water to kill bacteria and germs. Pour this solution into a pressurized spray bottle, spray on the grass, and then rinse the grass thoroughly.
If you have a pet, you can opt for synthetic grass with a PU-backed backing, which is resistant to liquids, stains, and urine. This type of backing reduces the number of hygiene problems associated with pets, and the grass is also corrosion and weather-resistant. Latex-backed artificial grass, on the other hand, has a tendency to expand and contract with extreme changes in temperature, causing wrinkles and air bubbles.
Bacteria can grow on any surface, including synthetic turf. When they multiply, they cause odors, discoloration, and corrosion. Because of this, good-quality artificial grass should contain an antimicrobial backing. Proper maintenance will ensure that bacteria do not grow. To maintain the health of your synthetic grass, you should follow the manufacturer's instructions for proper maintenance. However, you should also take into account the amount of traffic and exposure to bodily secretions that the turf receives.
Some of the brands that offer antimicrobial backing include Pet Zen Garden, Golden Moon Pet Grass, SynLawn Pet System, and Perfect Turf Pet Grass. These brands are known for being pet-friendly, which is why they are more expensive than their live counterparts. Antimicrobial-backed artificial grasses are also easier to clean. But, you should make sure that you test any cleaning agent you plan to use on a small section before applying it on the whole turf.
Denser fibers
The face weight of the artificial grass is a key determinant of its density and durability. Higher face weight means more yarns per square meter, meaning higher density artificial grass. Higher face weight also means higher cost, but better quality grass. Denser fibers can be made to look more realistic and even have added features such as bounce-back properties for high-traffic areas and heat reflectivity. Listed below are some of the factors to consider when choosing artificial grass for your lawn:
The density of the pile of artificial grass is also an important factor. The higher the Dtex, the more dense the pile will be. This will give your artificial grass a more realistic look and feel, while a low pile density can look scruffy and sparse. For optimal performance, it should have between sixteen and eighteen stitches per square meter. A low pile density of less than twenty-thousand stitches per square meter is best for ornamental purposes.
The density of the pile determines how much grass you can walk on. Denser pile density is the number of fibers per square meter, while lower pile density is the amount of space between the fibers. The higher pile density means more grass on the surface. The density of the pile can be measured in stitches per square meter, but it can also be expressed in stitches per linear meter. When shopping for artificial grass, remember to compare the density of the piles as well as the stitching.
Anti-UV coating
An anti-UV coating is an essential component of good-quality artificial grass. Because most artificial grasses are made from plastic, they will fade in the sunlight. A high-quality UV treatment, however, will keep your artificial grass looking vibrant for years to come. We've tested our formula for anti-UV concerns. Read on to learn more about UV protection for artificial grass. We've made our selection as safe as possible for our customers.
Anti-UV coating is one of the most important factors to look for when selecting an artificial lawn. This coating will protect the grass from fading, which is especially important if it will be exposed to sunlight for extended periods of time. The coating will ensure the color of the grass remains vibrant for years to come, which is essential for front or backyard applications. Uv-stabilized grass also resists fading due to sunlight, which means it will look great for many years.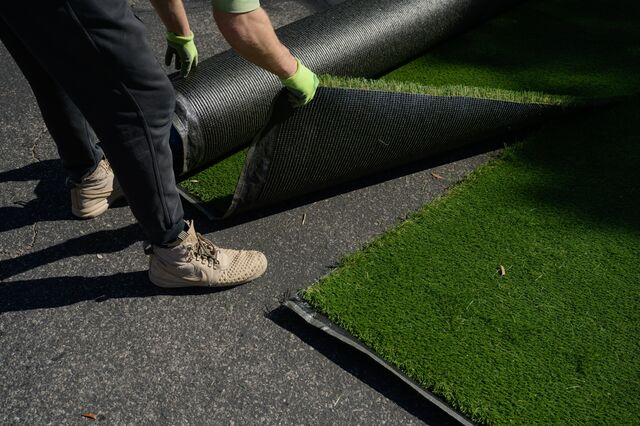 Consumers should always look for "good quality" artificial grass. This is the best type for outdoor use, as it will last longer. The best types of artificial grass have polyurethane backing, rather than latex, and a UV-protectant coating. Having an anti-UV coating will help protect the artificial grass from the sun, which can fade it to blue or white. If you're not sure if your artificial grass has an anti-UV coating, consider asking a retailer to provide you with a sample.
The low-emissivity glass was invented in the mid-80s and was initially used for a window film. It reflects ultraviolet and infrared light. It also transmits visible light. However, the UV protection of your artificial grass depends on where it's located. The equatorial zone is low-emissivity, while sunny latitudes and areas with thin air are high-UV-reflective. CCGrass landscape has passed a test where it was exposed to UV-rays.
Country of origin
To ensure consumers are getting the best value for their money, it is crucial that consumers be aware of the country of origin of their artificial grass. This is particularly important in Canada, where more than 90% of companies that produce and sell artificial grass are Chinese-based. While some companies do put Canadian flags next to their product lines, they hide the country of origin from their consumers, charging higher prices in the process. As a result, consumers are being misled into believing that the product they are purchasing is of high quality.
Purchasing synthetic grass from an EU manufacturer is a good idea. The regulations and quality control are generally better than those of Asia manufacturers. Make sure to also check the warranty that comes with the artificial grass. Find out how long the warranty is for and what is covered. This will give you peace of mind that your artificial grass is safe and won't be damaged. If you buy artificial grass from a reputable company, you can be sure that it will last a long time.
Purchasing artificial grass from a foreign supplier can mean getting a lower-quality product. Low-grade resin is often the culprit behind failures with synthetic grass. Resin is the key ingredient in a strong fiber. If it's cheaply produced, it's probably made from a low-grade resin. It can also contain fillers that are lower quality than quality resin. By comparing prices, you'll have a better idea of what to look for in good quality artificial grass.
Cost
If you're thinking about installing a new lawn, you need to think about how much the cost of good quality artificial grass is going to be. There are many variables that play into the cost of artificial grass, including the type of infill, which is the material inserted into the grass. You have several different options for infill, including silica sand, flex sand, and acrylic coated temperature reducing sand. These infill options will vary greatly in price. Keep in mind that the type you choose should reflect the purpose of your turf.
While it's true that the most expensive artificial grass is made with lower quality materials, it's also important to consider the amount of space you have to cover. Depending on your landscape, you may need to remove patio slabs, deck areas, trees, and pathways before installing the artificial grass. If your yard is curved, you can divide it into squares and add 15% to account for waste and if you want a lawn that will withstand high amounts of foot traffic, you'll need to consider the additional cost of landscaping.
If you're not sure how much to budget for the installation of artificial grass, the best way to compare prices is to ask for a quote for a project of any size. Generally, a small project under a thousand square feet costs $7 to $15 per square foot. Larger projects, such as a major hotel in Las Vegas installing 780,000 square feet of turf, cost significantly less than the average homeowner laying down 500 square feet.